ClearSkinPack® – Clearpack food skin film
Invisible Vacuum Skin
ClearSkinPack® for food is a vacuum skin film to pack every kind of fresh foodstuff on a tray with no need of MAP.
This high barrier coextruded film, with an easy opening system, is very light (good for transport), has very high puncture resistance, and is "invisible". These films are well appreciated by the customers.
Thanks to the high barrier, the sustainable film protects the food products, providing longer shelf life to help to fight food waste. Suitable for food packaging of cheese, frozen food, cold cuts, meat and fish, crustaceans, and ready meals.
We can also produce it in a microwavable and printable version, even onto cardboard.
Main properties:
Three times longer shelf life comparared to Modified Athmosphere MAP
Easy opening system, if required
Very high puncture resistance
Printable
Version suitable for microwave oven
Good formability performances
Good adhesion / peelability onto bottom trays made of PE, PE peel, PP, A-PET, C-PET
Sustainability
The skin film, thanks to its high barrier, protects, providing with a longer shelf life, the food products, helping to fight food waste.
Moreover, thanks to the volume's reduction of the final package, transport costs and CO2 emissions also significantly decrease.
ClearSkinPack has obtained the Cyclos certification for recycling issued by the Institut Cyclos-HTP (Institut for Recyclability and Product Responsibility).
ITP's Skin film has been tested and approved on a wide range of most common packaging machines available on the market
Download the brochure >
Usage
ClearSkinPack™ is suitable for all packaging machines: semi-automatic and automatic machines, tray closers, thermoforming machines
The skin film is suitable to any type of tray, bottom or cardboard
For the protection and packaging of fresh and processed food
Features
Peelable
Barrier
Welded
Printable
Certifications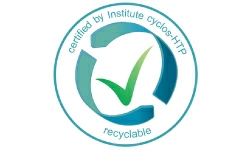 Cyclos HTP
Requests information forClearSkinPack® – Clearpack food skin film