ENVIRONMENTALLY FRIENDLY PACKAGING AT FACHPACK 2019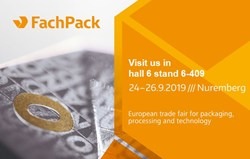 < Back to news
9 April 2019
NEWS & EVENTS
PACKAGING AT 360° – FACHPACK 2019, Nürnberg
The"European trade fair" attracts more than 1,600 exhibitors, focusing intensively on the networked European economic areas.

FachPack maps the entire packaging process chain, from packaging materials, packaging, and packaging accessories through packaging machines, labeling, printing with PrintPack, and intralogistics, and packaging logistics.

Whether it's for consumer or industrial products, there's a need for packaging solutions that are pragmatic, customized, and in line with requirements.

ITP will display its latest packaging prototypes in the category of recyclable, reusable, and compostable materials.

Come to explore more at Pavillon 9 – Booth 129.